MOBILE ALUMINIUM SCAFFOLDING: SALE + HIRE
HIRE A MOBILE ALUMINIUM SCAFFOLD
Aluminium Scaffold Towers are ideal for providing a stable and secure platform for all trades and also domestic work like painting or clean gutters etc. The highly versatile aluminium scaffold tower has a proven track record in the construction industry so if you plan to be working at height s and want to do it safely you need an aluminium mobile scaffold.
For working at height in a safe, stable and comfortable manner, the Complete Scaffold range of access towers offer an ideal solution. Being easy to erect, transport and available in a range of lengths and double or single width. If you just need something small for inside ask about our mini mobile, it folds up and will fit in the boot of your car.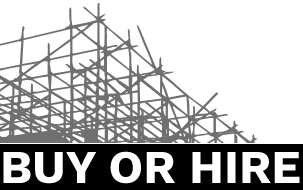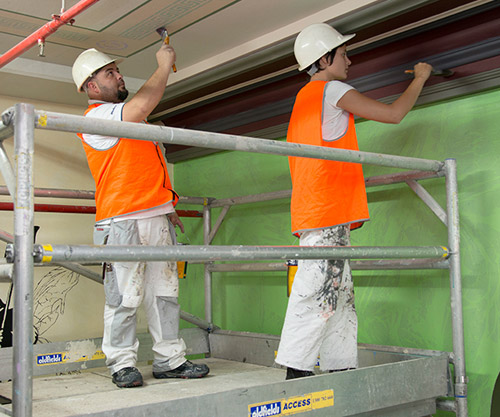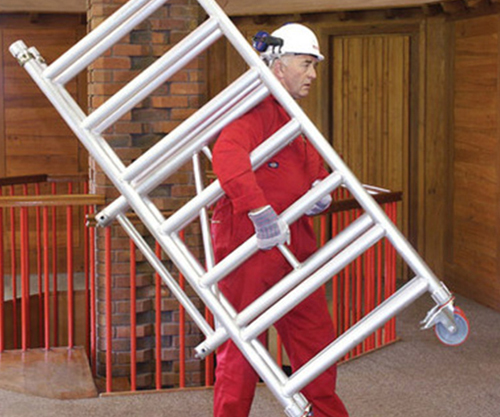 ---
BUY A MOBILE ALUMINIUM SCAFFOLD
Our Mobile Scaffold is made from T6 6061 grade Aluminium designed and engineered to meet Australian Standards, they are Work Cover registered and quality tested during development and manufacturing. All tube is 51.5mm with 2.0mm wall thickness.
FOLD UP MINI MOBILE ALUMINIUM SCAFFOLD
The fold up mini is the easiest scaffold system to erect. Just see how easy it is with one man erecting it. It takes less than one minute to erect the fold up mini system and a further few minutes to install the 1m extension.
| Code | Height | Width/length | Price EX GST |
| --- | --- | --- | --- |
| MMst | Standard set 1.0m twp | 1.8m long/0.7m wide | $553.75 |
| MMex | With Extensions 1.9m twp | 1.8m long/0.7m wide | $791.25 |
TRADESMAN SERIES – Safe Working Load 225kg
Safe working load: 225 kg per platform evenly distributed, double width is 450 kg per complete structure. The light weight Tradesman range is perfect for trades people that do a variety of different sized jobs in various locations. Great for painters, renderers, builders, carpenters, service engineers or even DIY home renovators.
| Code | Height | Width/length | Price EX GST |
| --- | --- | --- | --- |
| TD 130 | 3.0m platform height | 2.5m long/1.3m wide | $2,576.25 |
| TD 150 | 4.0m platform height | 2.5m long/1.3m wide | $3,265 $2,850 |
| TD 170 | 5.0m platform height | 2.5m long/1.3m wide | $3,233.75 |
| TD 190 | 6.0m platform height | 2.5m long/1.3m wide | $3,916.25 |
| TD 140 | 3.0m platform height | 1.9m long/0.8m wide | $2,133.75 |
| TD 160 | 4.0m platform height | 2.5m long/0.8m wide | $2,505.00 |
| TD 180 | 5.0m platform height | 1.9m long/0.8m wide | $2,796.25 |
| TD 200 | 6.0m platform height | 1.9m long/0.8m wide | $3,428.75 |